Join the
UNLIMITED WASH CLUB
Enjoy our Best Value and Truly Contactless Payment wash experience at any Flying Ace location.
8 Greater Dayton Locations 
Hours: Mon-Sat: 7am-8pm, Sun: 9am-6pm
About
As part of the Express Wash Concepts family, Flying Ace Express is proud to offer a fast, high quality, fun and eco-friendly car wash at a great value!
Community
Ace Cares! Being home grown and operated, we consider it a responsibility and privilege to give back to our community. 
Come Grow With Us!
Full and part-time careers offering above industry average pay & benefits.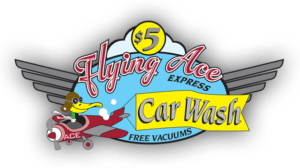 Attention customers!
As of 5/12/20, all Retail Offices & Free Vacuum Lots are OPEN.
Click here for Unlimited Wash Pass Maintenance
Unlimited Wash Pass Maintenance
A brief statement from CEO John Roush